Yes, that's my resistance band I'm wearing below!!
Picture on Left taken in April 2004/ on right taken in Sept (6 months after beginning Pilates)
Below taken in the morning on October 19, 2004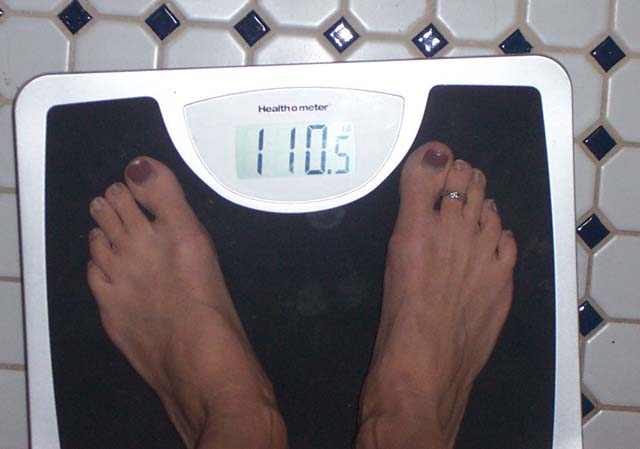 I never thought I'd see 110 pounds on the scale again. I now weigh the same as I did at 13!
Before And After...what a difference a year makes!
(Lt) July 2003 size ladies 14 pants (Rt) July 2004 size Junior's 14 shorts (little girl's size!)
The importance of exercise for people with Parkinson's is nothing new, but it is something new for me. I've never been one to exercise much, but I recently discovered Pilates and it's made a world of difference in my mind, body and life....
Left is 4/17 @ 132 lbs / Right is 7/17 @ 119 lbs
Left is 1 month after daily Pilates/ Right is 4 months after daily Pilates
Passionate For Pilates

Pilates is a form of exercise created by Joseph H. Pilates in the early 1920's derived from his study of yoga and the martial arts. In 1923, German-born Joseph H. Pilates brought his unique method of physical and mental conditioning to the United States.

Pilates engages the mind and conditions the total body. It is a unique combination of strength and flexibility training that improves posture, reduces stress and creates long, lean muscles without bulking up. Pilates is able to work several muscle groups simultaneously. The smooth, continuous motions of this exercise concentrate on strengthening and stabilizing the core, which is your abdomen, back and pelvic girdle region, sometimes referred to as the "powerhouse".

Three years ago I gained 60 pounds during the pregnancy of my fourth child. Following his birth, I never lost that weight. When he was only 6 months old, I was diagnosed with Young Onset Parkinson's Disease. Between my Parkinson's symptoms and my weight gain, I figured I would never find an exercise that I could handle or commit to on a consistent basis; I figured I was going to be heavy for the rest of my life. That was until I saw something on TV late one night about Pilates. It was the secret of the stars and dancers had been using it for decades. It looked liked something I could do and I figured I'd give it a try.

On March 17, 2004, I began doing 20-40 minutes of Pilates every single day combined with a sensible diet.
Four weeks later, I had already lost 20 pounds and dropped from a size 14 to a size 10. I felt better than ever and I was even noticing it was helping some of my Parkinson's Symptoms, such as my mobility and flexibility.

Eight weeks later I was down nearly 30 pounds and had gone from a size 14 to a size 6!

Only 12 weeks after beginning daily Pilates, I was down 40 pounds and could fit a size 2 (and I can even fit in junior sized 16's and 14's).

Even when I was at a point that I would still need to lose 20 pounds to get down to what I weighed when I got pregnant with my 4th child, I was ALREADY fitting sizes SMALLER than I was wearing back then because my body was more toned than it's ever been in my life! I don't even care about the number on the scale anymore because Pilates makes me feel so good.

7 months after discovering Pilates and eating better, I'm down 57 pounds and barely fitting my size 2's.

For the first time in my life, I can do BOY PUSHUPS! Pilates will really help you gain strength you never thought possible and without even breaking a sweat!

PILATES TOTALLY ROCKS!! If I can do it, YOU can do it!
What A Difference A Year Makes:
Left: May 2003, 167 pounds Right: June 2004, 120 pounds
Left: July 2003, 167 pounds/ Right: June 2004, 120 pounds
(Lt) March 2003 Size 14, 167 lbs... (Rt) June 2004 size Jr 14, 120 lbs
(Lt)taken at my son's bday, balloons cencored, LOL
Left, March 2004 Size 14, Right, June 2004 swimming in same Size 14 jeans
The Proof Is All In The Jeans I Fit In March 2004:
Left & Middle pictures in size 14 jeans in April, Far Right in same jeans in June
LET'S FACE IT...I'VE LOST WEIGHT
(left) November 2001 (right) August 2004
My New Motto:


Pilates Your Butt Off

What are the benefits of PILATES?

longer, leaner muscles (less bulk, more freedom of movement)
improves postural problems
increases core strength/stability and peripheral mobility
helps prevent injury
enhances functional fitness, ease of movement
balances strength & flexibility
heightens body awareness
no-impact - easy on the joints
can be customized for everyone from rehab patients to elite athletes
complements other methods of exercise
improves performance in sports (golf, skiing, skating, dance, etc.)
improves balance, coordination & circulation